10 Male Characters I Will Love Forever
Good morning, everyone! Valentine's Day is nearly upon us...which means it's high time for me to share with all of y'all a nice little list of my favorite fictional guys! I don't do real-life dating, which means that all my love life stuff has to come from the pages of books or from the screen. So, here I will provide you with a list of my top 10 male characters, most of whom are from books exclusively, although a couple of them are movie guys as well.

Without further ado, I give you:


10. Dustfinger [Inkheart by Cornelia Funke]
Yeah, he's pretty darn hot (literally) and he's pretty incredible. I absolutely love him, and while I haven't seen the movie and am probably not going to, he's one of my favorite book characters ever. I will always be a fan of the conflicted antihero type. *smirks*
9. Leith Torren [The Blades of Acktar]
This booooooy. This boy. This assassin boy. <3 I love him with all my heart. Such a wonderful boy. That's about all I can say about him.
8. Keefe Sencen [Keeper of the Lost Cities by Shannon Messenger]
Lord Hunkyhair is amazing and I love him and he better win Sophie's heart, that's all I can say about that.
7. Janner Igiby [The Wingfeather Saga by Andrew Peterson]
Technically he's way too young for me, but Janner is just a beautiful human being, one of the most real and relatable characters I've ever read about. His character arc is the sort of thing I aspire to write myself someday. I could rave about this boy for HOURS.
6. Lazlo Strange [Strange the Dreamer by Laini Taylor]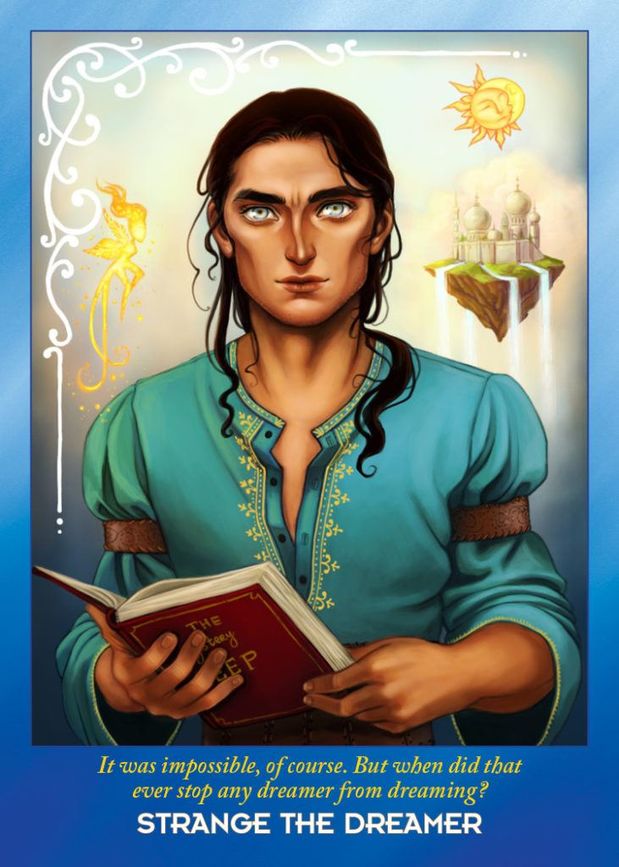 Have you ever met a fictional character where you feel that searing connection? From now on, everything that happens to that character happens to you; you love everything about them, from their darkness to their highest point. When they triumph, you triumph. When they are happy, so are you. Their loves are yours. Yeah, that's Lazlo Strange for me. He's just the most perfect and wonderful and beautiful little librarian-turned-hero who has ever existed, k?
5. Aragorn II [Lord of the Rings by J.R.R. Tolkien]
So...I had a ton of trouble choosing a gif for him? Because there's just SO MANY good ones. Hee. But this man...I'm doing a very prolonged rewatch of the LotR movie trilogy rn and I HAVE NEVER LOVED HIM SO MUCH. (also, I know he does get married in the series and I don't begrudge him that at all, but I'm sure grateful he's single for a while or he wouldn't make this list XD)
4. Eomer [Lord of the Rings by J.R.R. Tolkien]
Yeah, let's admit it...Eomer ranks higher than Aragorn, but only just slightly. (I would put Sam on here, but my love for him is not quite the same ;)) Eomer is such an epic and underrated character (I mean, come on, he killed TWO MUMAKIL SINGLE-HANDEDLY, for Pete's sake. That tops even Legolas). I love him so very much.


3. Tony Stark [Marvel]
This guy, y'all. THIS GUY. I'm planning on doing a whole post as Endgame gets closer about why he's a wonderful character and the real hero of the MCU, but for the time being, I'll jut say that HE IS MY FAVORITE and I will never get over him. Never.
2. Obi-Wan Kenobi [Star Wars, George Lucas]
My first fictional love and still one of the ones I love the most, even more so than many of my more recent faves. Obviously when I say this, I mean only Ewan McGregor's Obi-Wan as well as the one from the Clone Wars (Alec Guinness is wonderful, but in a--shall we say--different way xD). He's got so many excellent lines, he's beautiful (really), and I just plain really love him, 'mkay? We're good. He's great *drops the mic*
And number 1....
Prince Leonard Lionheart of Southlands [Tales of Goldstone Wood by Anne Elisabeth Stengl]
(Obviously that's not Leo on the cover...not sure who it's supposed to be, honestly. Varvare's mother?)
OKAY, SO YOU GUYS. MY LEO.
I love that he's controversial, honestly, because that means I can have him while everyone else fights about whether or not he's a coward. I adore Leo with all my heart. He's such a puppy dog, and while he's terrified of everything and has SUCH a character arc, he ends up in SUCH a good place. I love him so much, and I want to give him a huge hug and tell him that I too know how much the world sucks. He's such a poor innocent little boy who made some big mistakes and cannot atone for them, and...oh, my boy. His character arc. LEO.
*screams*
So there you have it--my top 10 male characters of ever! Who are some of your preferred male characters, and why? Do you agree with any of mine? (Hee hee.) Chat with me in the comments!