Last week it was love, now it's joy's turn....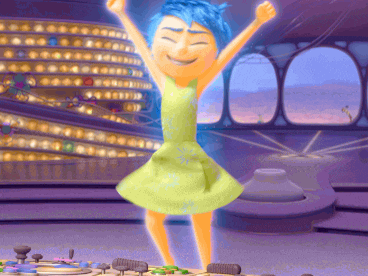 Not that Joy...
Joy. So elusive, so... hard to define. It's not just happiness, so what is it?
Joy is the second fruit of the Spirit. While we all know how love works, joy can be harder to figure out, and for good reason. After all, when you've got so much on your chest, is it ever easy to find the "Joy of the Lord"?
Joy, it turns out, is just as much an action as love. But more than that, it's a choice you have to make. It's not just singing in the rain, although it's that too.
No, joy is standing in the wall of the hurricane, tears streaming down your face and your heart slowly shattering inside you, while you stand there and whisper, "Not my will but yours, and I will be glad of it."
Joy is taking the bread and the wine and worshipping.
Joy is when you remember, no matter what, that Jesus loves you. You were a child of wrath, destined for hell, but he gave his life to pay the ransom for your sins. You will live eternally.
In this book called
Uneclipsing the Son,
the author makes an interesting statement on John 3:16:
[paraphrased]
"What if when the Bible mentions eternal life, it means it starts right now? What if the eternal life is not just the fact that we will literally live forever in Heaven, but starts at the moment of salvation and continues throughout our lives in our relationship with Jesus?"
Consider this: If eternal life is being with God forever, than we should be overflowing with joy. When God is not in our lives, there is an infinite abyss that cannot be filled, and all the pleasures of the world can't fill it. We must let him fill us. No matter how little we realize it (contrary to popular belief, the average atheist doesn't sit around twiddling his thumbs like "Why do I feel like I'm so empty? I must need God!") we are empty without him, hollow shells of men and women who cannot exist on our own. We are zombies, lurching around in search of the next meal that never satisfies.
That's why we need joy.
The joy that we receive from God is, more than anything, I think, contentment. It is knowing that he is with us and we will never be shaken (more on that next week when I get to peace.) It is the story of our lives as defined by Jesus. If we delight ourselves in the Lord, joy and contentment will just bubble out of us like a fountain. We should always aspire to find our joy in Jesus and Jesus alone.
Shorter post today, but I hope you enjoyed. Stay tuned for Thursday, because I have another blog tour set to happen then about a book that I'm thrilled to tell all of y'all about!
Where do you find your joy? Are you so proud of me for being able to get into another blog tour? (Hint: It's Marissa Meyer's newest book. [Hahahaha I wish]). Chat with me!