So
Laura over at An Odd Blog
tagged me for the Hamilton tag (girl, you may just be my new best friend in the blogging world). If you don't want to hear me gush, you may want to run. Fast. Away. As far as you can get.
So, YAY! HAMILTON QUESTIONS!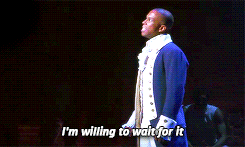 Or am I?
How did you discover Hamilton?
One of my wonderful friends came to visit me here in Maine last summer and brought it with her. My reaction was kind of like, "Ugh."
But then she was like "TRY IT" so I said, "Fine." Just to make her happy, of course. And now I'm like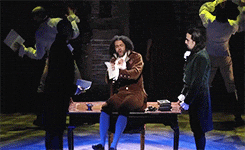 I'm Jefferson. In the middle.
This is a very normal reaction, I can assure you. *may be a little bit insane*
Who is your favorite character?
Sir, I don't know what you heard, but whatever it is, Jefferson started it. Not that Jefferson is my favorite character.
I can't even decide. Like, I love Burr's big numbers (they're some of my favorites in the musical), but I wouldn't say he's my favorite character.
Maybe Eliza? I love Angelica. And I love Hamilton himself. Even though he's such a messed-up human and makes so many bad choices.
Okay, fine. I think at the moment (this will have changed by tomorrow) I have to go with Lafayette/Jefferson. (They're played by the same actor, for any who don't know.)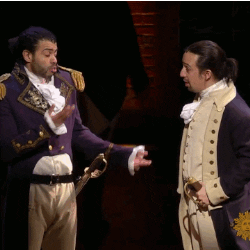 I mean, you can't not love him. Lafayette is the guy on the left.
What's Your Absolute Favorite Song?
I am going to do another post at some point on my Top Ten Songs from Hamilton (I have literally been planning this for months. Is this the reason I started a blog in the first place? You will never know.)
But right now:
AAAHHHHHHH!!!!!! Who wrote these questions??????
Me at whoever wrote these questions
At the moment I'm very much enjoying Yorktown (The World Turned Upside Down) and The Room Where it Happens. Just because they're awesome and historical and SOMEONE NEEDS TO WRITE A MUSICAL THAT'S ALL ABOUT THE CIVIL WAR WITH LEE AND LONGSTREET AND CHAMBERLAIN BECAUSE THAT WOULD BE AWESOME #UnashamedCivilWarBuff
I was actually able to find a video of Yorktown on YouTube from the Tonys and that may or may not be one of the reasons I love it right now.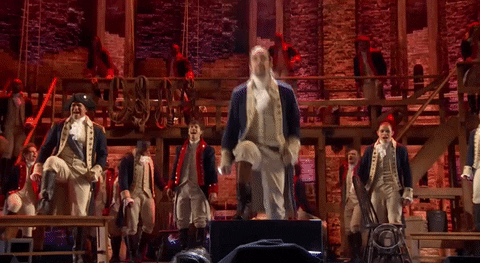 The world turned upside down...
Music wise, which is better, Act 1 or Act 2?
Um. Well , Jefferson is in Act 2 and gets to sing his awesome stuff I like Act 2. Not because of Jefferson or anything. But The Room Where it Happens is in Act 2, and so is It's Quiet Uptown *sobs* and Stay Alive (Reprise) *sobs even harder* and The World Was Wide Enough *ugly crying for a year*
I think I like Act 2 better. For the feels. And Jefferson. And Hurricane. And....
Yeah, I like Act 2 better.
What's your dream role?
Eliza. Hands down. For one thing I can actually sing her part and she doesn't really rap at all but also because she's my favorite female character in the musical and Burn burns me. I practice her part every day when I put my baby sister to bed. I may or may not be obsessed.
What's your favorite quote?
But there are so many of them!
Pretty much all of Stay Alive (I'm A General! Wheeeeee!!!!!). And most of the Reynolds Pamphlet, and Aaron Burr's motto.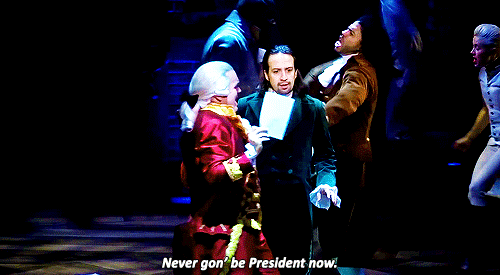 Yes. Jefferon is me.
Describe what

Hamilton

means to you using only 3 words.
No.
Please.
Don't do this to me.
I'll cheat. Four words: I'm a general! WHEEEEEE!!!!!
Just kidding.
Actions have consequences.
Who do you consider your "
Hamilton
Buddy" (someone who you can ramble, fangirl, or sing
Hamilton
with)?
My friend Cat, who first introduced me to it. And I may have to get
Laura
to do that with me because now I know that she likes Hamilton too.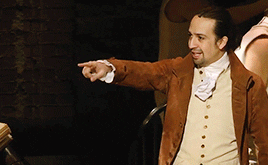 I'm talking to you.
How has

Hamilton

impacted your life?
It's helping me appreciate the history of the early colonies. I've always loved history, but it's become more of an obsession now that I've begun listening to Hamilton.
And it's also showing just how human and fallible our founding fathers actually were. Nobody notices that - we idolize them, talk about how much we wish the politicians of today were like the Founders. The thing is - they are.
Hamilton shows that blackmail, bribery, campaigns, endorsements, and dirty tricks in the government have been a part of politics from the beginning. I mean, all you have to do is listen to The Reynolds Pamphlet and see how much people's past reputations can hurt their political careers. And we thought that was fresh to the twenty-first century.
And I also obsess over it and know most of the words and...
I kind of like hip-hop/rap now. Sort of. Not all of it.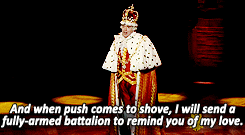 Just because I can't do a post about Hamilton without mentioning You'll Be Back.
And I don't really have anyone to tag for this, but if you want to do it, then feel free.
I hope you liked reading about my minor obsession co-favorite musical. The other one is Les Miserables, with Wicked vying for that spot, but at the moment it's easy to admit that Hamilton is one of my favorites.
~Faith